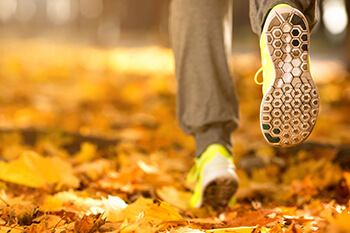 The back-to-school season can bring many changes to a child's life, from new classes and friendships to new, and worsening, foot pain. Children returning to school following a long summer of wearing flip-flops are more likely to experience foot pain. These flimsy summer staples offer little in the way of heel and arch support — something that growing children need. A child's heel bones continue growing into adolescence. When not given proper cushioning and support, the growth plates of the heel bones can become inflamed, leading to heel pain. Wearing flip-flops also increases the risk of Achilles tendon injuries, pinched nerves, sprains, fractures, warts, and athlete's foot. If your child is starting off the school year with painful feet, it's suggested that you take them to see a chiropodist.
Fall is a time of increased outdoor activities, sports, and back-to-school events. It can also be a time of increased foot and ankle problems. For all of your autumn foot care needs, please consult with one of the chiropodists from Complete Family Footcare & Therapy. Our clinicians can help you maintain the health of your lower limbs and your mobility.
Common foot and ankle problems that can arise during the fall season include:
Bunions - Bony growths on the outsides of the big toe joints

Hammertoes - Toe deformity that causes the toe to bend downward at the middle joint

Plantar fasciitis - Inflammation of the ligament that runs along the bottom of the foot

Achilles tendonitis - Inflammation of the tendon that runs along the back of the calf

Sever's disease - Injury to the growth plates of the heel bones, common in children and teens

Metatarsalgia - General foot pain

Blisters - Skin lesions usually caused by friction over an area of skin

Sesamoiditis - Injury to the tiny, pea-shaped bones located just beneath the big toe
Many of these conditions are associated with increases in physical activity of the change from wearing flimsy summer shoes to more sturdy fall shoes. If you have any questions, please feel free to contact our offices located in . We offer the newest diagnostic and treatment technologies for all your foot care needs.
Read more about Fall