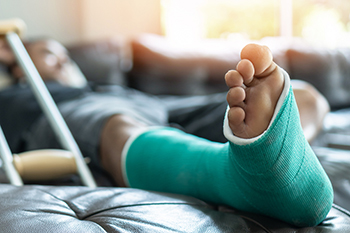 Several weeks or months is generally needed to fully recover from a broken ankle. After an X-ray is taken that can confirm the fracture, recovery can begin. It is important to refrain from weight bearing activities, and to possibly replace that time with adequate resting. Many patients will purchase a shower chair, and this is an effective method of staying safe while taking a shower. The broken foot may feel better when it is elevated, and this may help to control any swelling. Additionally, when the ankle has completely healed, it is suggested that daily activities are increased gradually, and this can give the ankle time to regain strength. If you have a broken ankle, please confer with a chiropodist who can accurately diagnose this type of fracture, and offer correct treatment options.
Ankle fractures are serious injuries that require medical attention. If you have broken your ankle, please consult with one of the chiropodists from Complete Family Footcare & Therapy. Our clinicians can help you maintain the health of your lower limbs and your mobility.
Symptoms
Pain at the site of the fracture

Swelling

Bruising

Blisters

Inability to walk

Ankle deformity

In the case of an open fracture, bone protruding through the skin
Diagnosis
Physical examination

Medical history

X-ray, bone scan, or other imaging study
Treatments
Rest

Ice

Compression

Elevation

Immobilization

Pain medications

Surgery
If you have any questions, please feel free to contact our offices located in . We offer the newest diagnostic and treatment technologies for all your foot care needs.
Read more about Broken Ankles