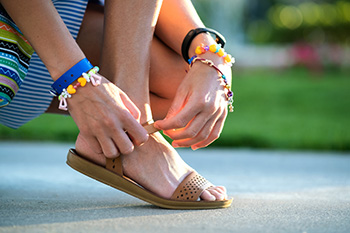 Sandals have become common footwear year round, mainly because they are lightweight, easy to put on and take off, comfortable, and attractive. But are sandals good for your feet? Experts are keen to point out that sandals and flip flops provide little arch support. They also lack ample cushioning, as the soles may be thin and made of hard materials. Further, sandals provide minimal side-to-side support and do very little to protect the feet from trauma. Other experts believe that if you are not suffering any ill effects from wearing sandals or flip flops, then go right ahead. They also point out that it may be beneficial to find sandals with a molded arch and straps to keep the foot more stable. Sandals with high wedges are thought to put the wearer at risk for twisted ankles or falls. If you are feeling foot pain of any type after wearing sandals, it is suggested that you make an appointment with a chiropodist for an evaluation and possible treatment options.
Caring for your feet is not just something done at the chiropodist's office. Good foot care starts at home. If you would like to learn more about daily foot care practices, please consult with one of the chiropodists from Complete Family Footcare & Therapy. Our clinicians can help you maintain the health of your lower limbs and your mobility. 
There are many things that you can do at home to help care for your feet, including: 
Wearing shoes and socks that fit properly

Washing the feet daily with soap and water

Drying the feet thoroughly

Applying moisturizer to the soles and heels of the feet

Taking a walk and exercising the feet regularly 

Doing foot stretches and strengthening exercises 
A chiropodist can help figure out a manageable foot care routine for you to keep your feet healthy. If you have any questions, please feel free to contact our offices located in . We offer the newest diagnostic and treatment technologies for all your foot care needs.
Read more about Everyday Foot Care