Athlete's Foot Treatment in Mississauga & North York, Ontario Canada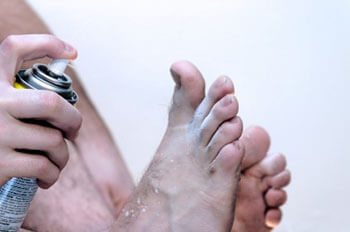 Athlete's foot is a fungal infection that's highly contagious and can be spread through direct skin to skin contact as well as indirect contact. Athlete's foot can be spread directly when an uninfected person touches the infected area of someone who has athlete's foot. The condition can be spread indirectly through contaminated surfaces, clothing, socks, shoes, bed sheets, and towels.
Areas that are known to be damp, warm, or humid are commonly known to be more susceptible to carrying the fungal infection. With that being said, you should use caution around swimming pools and communal showers to avoid picking up athlete's foot. If you know you have a weaker immune system, you should also be sure to use caution around these types of environments.
Athlete's foot is spread by direct contact with an infected body part, contaminated clothing, or by touching other objects and body parts that have been exposed to the fungus. Because the feet are an ideal place for tinea to grow, thrive, and spread, they are the most commonly affected area. The fungus is known, however, to grow in other areas as well.
Aside from the feet, Athlete's foot has been known to infect the hands, groin, and scalp. Around 70% of the population suffers from tinea infections at some point in their lives; however, not all of these cases are Athlete's foot. Just like any other ailment, some people are more likely to get it than others. Those with a history of tinea infections or other skin infections, both recurring and non-recurring, are more likely to contract Athlete's foot. On top of this, the extent to which a person experiences regrowth and recurrent tinea infections varies from person to person.
Athletes Foot Symptoms
Those who are affected by athlete's foot may experience symptoms such as cracking, dryness, flakiness, itchiness, redness, or scaliness of the skin of the foot or in between the toes. Oozing, crusting, swelling, and the formation of blisters are other symptoms that may arise due to athlete's foot.
Sometimes people will not even know they have Athlete's foot due to a lack of symptoms.
If athlete's foot goes untreated, there is a high risk that it may spread from toe to toe. With this in mind, it's highly recommended that you meet with a chiropodist for a professional diagnosis. Your chiropodist can give you information about treatment options that best suit your case.