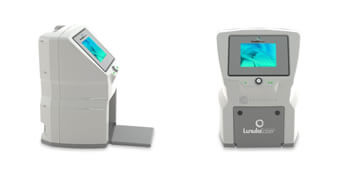 Introducing the Erchonia Lunula Laser®, the revolutionary low-level laser therapy bringing new hope to people suffering from onychomycosis, or toenail fungus. Safe and effective, Lunula Laser is the first and only non-thermal laser to receive FDA 510(k) Market Clearance for Onychomycosis. Lunula Laser poses none of the risks and harmful side effects of oral anti-fungal medications and is painless, unlike other laser therapies.
The Erchonia Lunula Laser uses low level laser light to treat toenail fungus and requires very little time or set-up. It's the only system you can turn on and walk away – the device already has a pre-set protocol. In fact, as little as (4) 12-minute sessions are needed to treat the affected area.*
To learn more about the Lunula Laser and whether it's right for you, call our office today.
*Individual results may vary.
THE EFFECTIVENESS OF LUNULA COLD LASERS FOR TOENAIL FUNGUS*
Erchonia's forward-thinking products are designed with the patient's experience in mind, and the best way to ensure an effective, pleasant user experience is through rigorous clinical trials. The Lunula laser was cleared by the FDA to promote clear nail growth based on real results found in three Erchonia Corporation clinical tests.
Based on these six-month trials, 67 percent of evaluated toenails reached a clear growth of 3mm or more. The average increase in growth was over 5mm.
Today, Lunula's innovative low-level laser technology has helped many sufferers of onychomycosis reduce symptoms and enjoy the lasting confidence of clear, healthy nails.
*This content is courtesy of Erchonia.