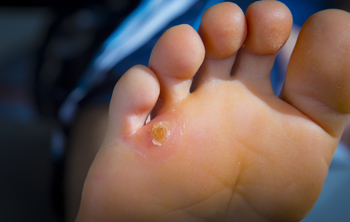 Corns and warts are two similar looking skin growths that can crop up on the feet. A wart is a fleshy growth on the foot caused by a human papillomavirus (HPV) infection. The warts tend to have a rough, grainy texture, with small black dots appearing in the center. Warts can grow by themselves or in clusters. Corns, on the other hand, are thick, hard bumps that develop on the skin due to repetitive friction. Corns usually grow on the tops and sides of the feet, particularly on top of the toes, or in between the toes. They may be surrounded by dry, flaky skin. Both corns and warts can be painful, especially if pressure is applied to them while standing or walking. Whether you have warts or corns, don't hesitate to schedule an appointment with a podiatrist, who can diagnose your condition and prescribe the right treatment for you. 
If you have any concerns regarding your feet and ankles, contact one of the chiropodists of Complete Family Footcare & Therapy. Our clinicians  will treat your foot and ankle needs.
Corns: What Are They? and How Do You Get Rid of Them?
Corns can be described as areas of the skin that have thickened to the point of becoming painful or irritating. They are often layers and layers of the skin that have become dry and rough, and are normally smaller than calluses.
Ways to Prevent Corns
There are many ways to get rid of painful corns such as wearing:
Well-fitting socks
Comfortable shoes that are not tight around your foot
Shoes that offer support
Treating Corns
Treatment of corns involves removing the dead skin that has built up in the specific area of the foot. Consult with Our clinicians to determine the best treatment option for your case of corns.
If you have any questions please feel free to contact our offices located in North York and Mississauga, ON . We offer the newest diagnostic and treatment technologies for all your foot and ankle needs.
Read more about Corns: What Are They, and How Do You Get Rid of Them